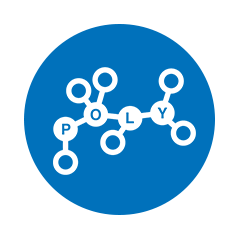 Technical Plastics – anything is possible
Technical plastics for industry are a further speciality of IBK. We produce plastic parts to your specifications (ISO, CAD, drawing) for all temperature ranges and with specific chemical resistance. Whether unusual, complex or just simple forms – we turn, inject, saw, drill or mill, whatever you require.
Perhaps we might be able to help you right now?
Most gladly: +49 (0)2045 / 8903-0.
Or send an e-mail to kunststofftechnik@ibk.de
---
Full range: Semi-finished and finished parts
We supply semi-fi nished products as round bars, plates, pipes, rods, profi les or individual cuts, rolls, rollers or wheels with or without coating. Furthermore fi nished parts, such as protective systems for safety at the workplace in electronic applications. We process all types of plastic, from polyamide to hard PVC through to GRP/FRP.
Semi-finished parts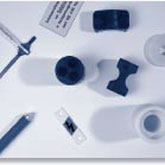 Plates
Blocks
Full rods
Hollow rods
Pipes
Cut pieces

 
Examples of use: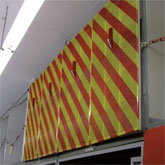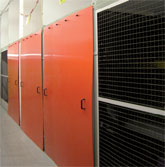 Finished parts
Cut and processed (turned, milled, drilled etc.) to drawing, sketch or sample, such as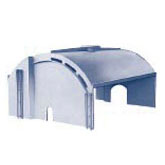 Wheels
Rollers
Bearing bushes
Thrust rings
Bands
Sleeves
Strips
Finished parts to drawing, sketch or sample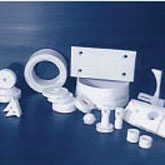 Welded
Adhered
Rounded
Pressed
Injection moulded parts to drawing
Deep drawn parts to drawing
Materials
Polyamid 6G (PA 6G)
Polyamid 6E (PA 6E)
Polyamid 6.6E (PA 6.6E)
Polyamid 6 G containing oil
Polyacetal (POM)
RCH (PE) 1000 (PE-UHMW)
RCH (PE) 500 (PE-HMW)
Hard PVC (PVC-H)
Soft PVC (PVC-W)
Polycarbonate (PC)
Teflon (PTFE)
Polypropylene (PP)
Polyethylene (PE)
Hard fabric (HGW)
Hard paper (HP)
Polyurethane (PUR)
Vulkollan®
GFK (glasfaserverstärkte Kunststoffe)
Plexiglas/acrylic glass (PMMA)
Polyetheretherceton (PEEK)
Polyvinylidenfluoride (PVDF)
Areas of application
Foundries and rolling mills
Apparatus construction
Machinery and special plant construction
Conveying technology
Electrical industry
Textile industry
Packaging industry
Chemical industry
Our supply range for safety at the workplace, particularly in the electrical sector (high-voltage equipment), is a speciality.
Please call us. We can give you comprehensive advice.
Synthetic plastics
Fully synthetic plastics Product information Fully synthetic products are structured from simple compounds, the base molecules or monomers. Structuring is achieved by:
Polymerisation,
Polycondensation,
Polyaddition,
whereby the production processes work with pressure, heat and catalysers.
| Initial materials | Common plastic | Designation |
| --- | --- | --- |
| Etylene | Polyethylene | PE |
| Propylene | Polypropylene | PP |
| Styrene | Polystyrene | |
| Tetrafluorethylene | Polytetrafluorethylene | PTFE |
| Vinyl chloride, chloroethylene | Polyvinyl chloride | PVC |
PTFE in particular has proven itself in sealing technology. That is why explicit reference is made to this material at this point.
Fluorpolymers:
PTFE-TFM (Hostaflon®)
PTFE (Teflon®)
PFA
FEP
Polytetrafl uoroethylene is a plastic produced by polymerisation (bringing together many single molecules of the same type with multiple bonding into a macro-molecule) of tetrafl uoroethylene and is highly resistant to chemicals because the fl uorine atoms form a dense, spiral-shaped jacket around the actually active carbon chain. This jackets prevents the carbon atoms reacting upon contact with other chemical compounds. The affi nity is extremely limited.