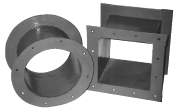 Fabric compensators are highly fl exible and usually made of multi-ply fabric, offering excellent temperature resistance and chemical resistance depending on the particular design. Mainly used in pipe and conduit systems to compensate for axial, lateral and angular movements. One major advantage of this type of compensator is the low restoring forces.
Special fabric materials permit temperatures of up to 1,000°C. Additional insulation can be used to resist temperatures of up to 1,600°C .
A baffl e can be fi tted for abrasive media. We produce top quality compensators for your specifi c application.
Applications:
Chemical plants, refineries, metallurgical industry, ventilation systems, chimney construction, industrial furnace construction, power stations, boiler systems, waste incineration plants, acoustic decoupling.

Materials:
Kevlar, fibre glass, glass needle felt, stone mineral wool mats, ceramic fabric, ceramic fibre mats, silicate felt mats, silicate fabric, Tefl on

Connection types:
Continuous screws and screwed counter flange, clamping bars, tensioning belts straps



Designs:
nominal widths up to NW 3000
operating pressures up to approx. 2 bar
additional insulation possible
gas-tight textiles with excellent chemical resistance
single or multi-ply structure
reduction of oscillations and vibrations
baffles can be fitted
multi-ply structure for rating flexibly to the operating parameters
special solutions available
very easy to install
suitable for positive and negative pressures
round and angular design possible
fixed either with clamps or flanges
open compensators or compensator hinges