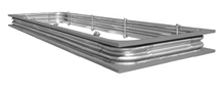 Rectangular compensators
Compensating for expansion in square or rectangular pipe systems. To be used wherever classic fabric compensators are not suitable because of high pressure or other special technical aspects.
compensating for axial, lateral and angular movements
suitable for vibrations
with welding ends or flanges
absolutely gas-tight
permanently resistant to pressure and temperature
can be assembled in segments
multi-ply design for low adjusting forces
permanently resistant to corrosion
bracing possible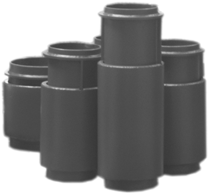 District-heating compensators
Compensating for longitudinal changes in district heating pipes. Special compensators suitable for installation both above ground and underground. There are two main types: district-heating compensators for non-recurring heat expansion and operating compensators for recurring movement processes.
corrosion-resistant design
with movement limitation
long service life
highly flexible bellows for greatest possible movement compensation
outer protective casing
inner guide pipe to protect the bellows
reduced number of fixed points
control bore can be fitted
various types available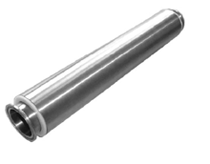 SaniCompTM
The unique corrugated geometry provides a hygienic solution for the food industry. This is achieved by an optimized bellows height combined with special corrugation spacing. The design warrants optimum turbulence between each corrugation, keeping the bellows clean. The housing is sealed to the bellows by seals to warrant that no dirt can settle between the bellows and the casing.
high self-cleaning effect
vertical or horizontal fitting
only product to pass the EHEDG cleaning test
simple pipeline construction
bellows protected by casing
control bore can be fitted as leakage indicator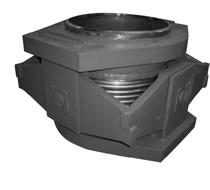 Universal compensators
Designed according to the standard compensators. Greater compensation for combination movements in the axial and lateral direction than in a standard compensator. The compensator consists of two bellows with an intermediate pipe to achieve greater lateral movement compensation.
space-saving construction possible
fewer fixed points/bearings necessary
with or without bracing
also available with inner protective pipe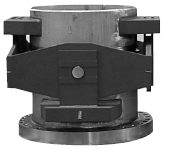 Exhaust compensator
Designed according to the standard compensators, but suitable for higher temperatures. Used for gas and exhaust pipes, engines and generators.
attenuates vibrations and oscillations
permanently gas-tight
corrosion-resistant
with special materials (e.g. Incoloy®) suitable up to temperatures of approx. 1,000 °C.
possible in round, square and rectangular design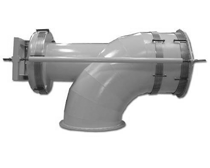 Compensators with corner relief
Frequently used in steam turbines or in district -heating pipes.
ower spring rates
long service life
safe to use even under extremely adverse operating conditions


Simply contact us: we'll also find the ideal solution to your problem.