Double Hose Lines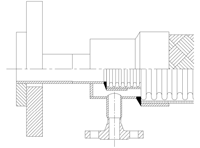 IBK Double Hose Lines
A double hose line consists of two stainless steel corrugated hoses inserted into each other. The inner hose generally conducts the media whilst the outer one contains heating or cooling media. Double hose lines are usually needed where additional insulation is required or when a minimum temperature is necessary for conducting viscous fluids. Stainless steel corrugated hoses have started to be used because a double hose line also needs to be fl exible in most cases. Due to its outstanding technical characteristics (resistant to high-temperature, non-corroding), the IBK stainless steel corrugated hose of type HF is ideal for the production of double hose lines. The connections can be adapted individually.
A double hose line is primarily used as:
Heating hose – in the chemical and construction industry for carrying viscous fluids or media sensitive to temperature.
Cooling hose – in compressors and engine construction for cooling air and exhaust gases.
with PTFE lining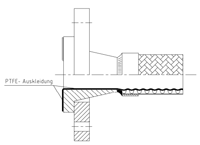 PTFE pipes are continually increasing in signifi cance because the requirements in the chemical industry are becoming ever more demanding and the chemical resistance of stainless steel materials is often no longer adequate. Stainless steel corrugated pipes have proved their worth as cladding, which also protects the PTFE from external mechanical loads and from kinks. In order to ensure that the throughput medium does not come into contact with the pipe and the connections, the PTFE lining is crimped at the ends. A design as PTFE-lined double hose is also possible. The only point to be observed is the increased bending radii.
with IBK folding clamp couplings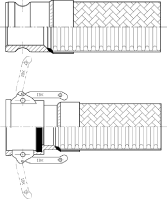 Given the many varied benefits of stainless steel corrugated hoses with IBK folding clamps as the coupling element, we want to just mention a few of them here:
IBK folding clamp couplings are easy to handle, i.e. the connection can be opened and closed without twisting the hose

IBK folding clamp couplings are fully interchangeable with systems of the same kind (MIL C- 27487).

IBK folding clamp couplings are suitable for operating temperatures of –40 to +120°C and can be reliably used for a maximum operating pressure of 16 bar.

IBK folding clamp couplings can be secured to prevent unintentional opening.

IBK folding clamp couplings are designed for the toughest conditions and therefore have long service lives.

IBK folding clamp couplings are available in different versions.

IBK folding clamp couplings stay completely sealed even after heavy duty use.

IBK folding clamp couplings are available in both brass and stainless steel.